The 2.29.0 version introduces Elementor widgets for building a separate giveaway page, referral notifications to notify them when someone subscribed from their link and also we have some new entries to show.
Here is the full changelog:
New: Form Fields in URL option – add field key and value in the URL as query strings.
New: Referral Email – Email subscribers when someone subscribes from their referral link.
New: Referred & Subscribe Entries – On entries page, you can now see even when a user just signs up or has referred someone.
New: Shortcode – Only Form – You can now use only_form=1 to show only the form of the shortcode.
New: Login again with email – Under the settings page, you can now allow people to use their email to subscribe again to show their subscribed page.
New: Entries – Action Type Filter – You can use the filter to see all entries by the action type.
New: (Premium) – Elementor Widgets – When building a landing page you can now also show the giveaway or parts of it. The widgets are: Giveaway, Form, Actions, Countdown, Leaderboard and Winners.
New: (Premium) – Active Campaign – Tags – When someone subscribes to an AC list, they will be tagged by that giveaway as well. If someone is referred by another subscriber, they will get tagged with Referred By: EMAIL.
New: (Premium) – Exclude Giveaway from Notifications.
Fix: CSS fixes for shortcode.
Fix: Template fixes in form builder.
Let's go over several features.
Form Fields in URL

If you check this, once a visitor subscribes, this field will be appended in the url. So for example; if a field key is user_name and the name is Igor, the url will have urls_to_giveaway?username=igor.
Referral Email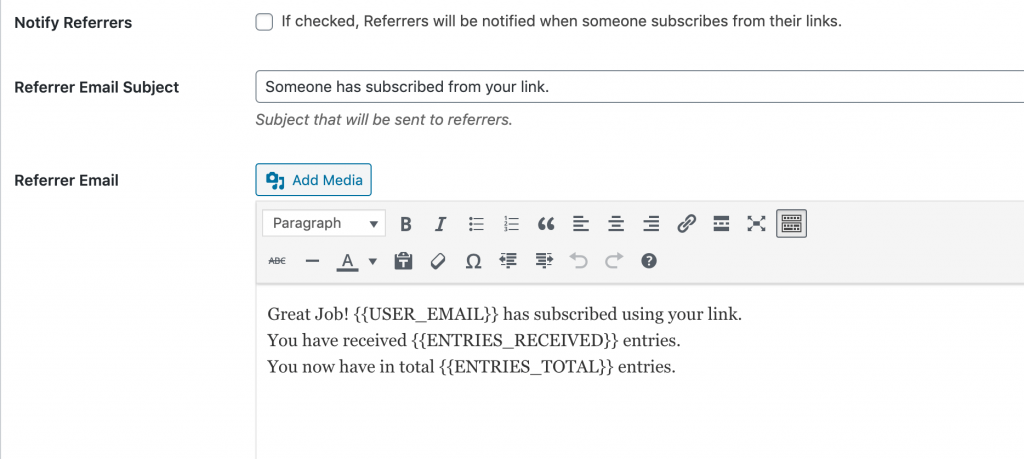 If you want to notify subscribers when someone has subscribed from their referral link, you can define that under Giveaways > Settings > Email.
New Entries and Filter
There are now new entries which you can see displayed. When someone has referred another subscriber, you will see under their email, the action "referred" and which user they have referred.
Another entry is the default "Subscribe" entry which will also be displayed in the entries page.
You can also filter out which action types to show if you want to see the results for a particular action type such as "Twitter Follow" or similar.
Elementor Widgets
This is a new Elementor integration which is included in the premium version.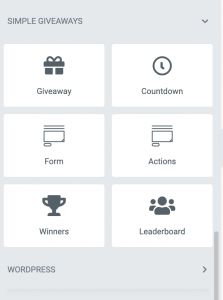 Elementor Widgets that are available are:
Giveaway – shows the whole giveaway shortcode,
Countdown – shows only the countdown,
Form – Shows the form,
Actions – shows the actions of the giveaway,
Winners – shows winners of a giveaway,
Leaderboard – shows the leaderboard.
Several of those widgets can be customized such as colors, typography and similar.
Active Campaign Tags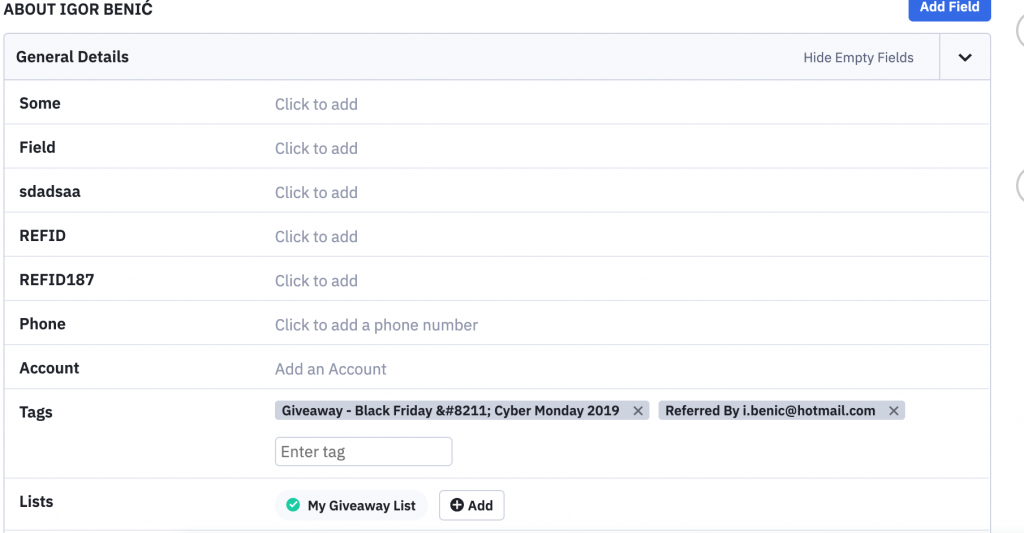 For the premium Active Campaign integration, we have also introduced tags. Tags are:
subscribe tag
referred by tag
When someone subscribes to your giveaway, they will be tagged with Giveaway – GIVEAWAY_NAME. When someone was referred by a contact, they will have the tag Referred By: EMAIL.
Conclusion
I have been working hard to push this update and I am so happy I was able to provide people who use Elementor a way to build an even better custom page for their giveaways.
With several new improvements, people can provide a better UX for their subscribers. The next update will also have several new actions which I am excited to build!