Time and time again, social media contests and giveaways have proven to be one of the most engaging channels of communication that a business can utilize; it is a great way for attracting attention and drawing in a new audience, and a perfect way to drive the actions which matter most to you and your business.
Every time you run a giveaway you're putting yourself in an outstanding position to boost your promotional efforts, drive a host of powerful actions and enjoy a diverse array of valuable benefits. 
The reasons why giveaways and contests are so popular are purely psychological – people love receiving free stuff!  Human emotions play a large role here; when offered an unexpected gift, people experience a positive charge that usually impacts their decisions and subsequent choices. Another equally important factor is competition; humans are naturally competitive, at least most of them.
That means that competition allows them to satisfy the need to win, provides the opportunity or reason for improving their performance, and motivates them to put forth greater effort that can result in – winning. Marketers learnt this trick a while ago, and are using it at every chance they get.  
Still, this doesn't mean anybody can just easily create a successful contest or a giveaway in a minute without putting some time, effort and thoughts into it. I've already written an article about what it means to create a social media contest or giveaway and what steps you should take into consideration before actually starting one, which I strongly recommend you read before stepping up your social media giveaway game.
Let's say you already defined your goals and reasons behind the contest, explored your audience and chose the perfect prize that will most definitely attract some new followers, but also keep your existing followers excited and engaged. What else can you do to engage more subscribers in your giveaways?
Engaging Subscribers with Actions
A lot of marketers choose to request all kinds of actions from their participants to increase the competition factor such as following a certain page or profile (depending on the platform), commenting or sharing certain posts (or both), taking a photo etc.
You can find a bunch of Facebook giveaways that request you to Like/Share and leave a comment on a certain post to participate in the contest, just like many marketers do on other platforms such as Instagram or Twitter. 
A lot of them also choose to partner with other companies and both share the giveaway on their profile, and some even ask entrants to tag a friend as a form of entry and spread the word to increase their chances of winning the prize. There really are many, many types of social media contests to choose from, but they all depend on your audience and your goals.
For example, Cupcake coffee box Kirkcaldy on their facebook page host giveaways. To participate, they ask their visitors to like the post (giveaway) and follow their page. In some other giveaways on Facebook, pages would ask you to post a comment and tag your friends. To check their giveaway as and example, click here.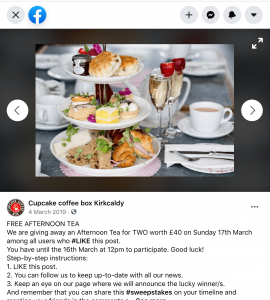 Why use online giveaway tools on your site?
Great thing about using tools like this one is the fact that you can do so much more for your business with just a couple of clicks from your participants! So let's start with some of the great benefits of using online giveaway tools, especially the ones designed for completing various types of actions:
1. Increase specific Website's Traffic Online
Giveaways and contests are great ways to increase traffic to your website through referrals; you can easily drive more traffic to yours or your sponsor's website just by putting them on your Giveaway action list.
Basically, you determine what kind of traffic you actually want to get with a particular giveaway and then you create various actions that can be completed in a matter of seconds.

Some actions like this are actually going to redirect users to such sites and there is a chance some of the visitors will stay and look around, or at least, bookmark it for later. That way, you can increase your traffic and visitors in the long run.
2. Include platforms and channels that are important for your business
For example, if Twitter is an important platform for you or your sponsors, you can request Follow action from your giveaway participants (or Like/Retweet action – or both).
Same goes with Instagram or Facebook; with using the right tools you will make each and every step much easier for your Giveaway participants; they can complete each action with just a click, so you can feel free to request visits or other action to any platform or profile you want to highlight.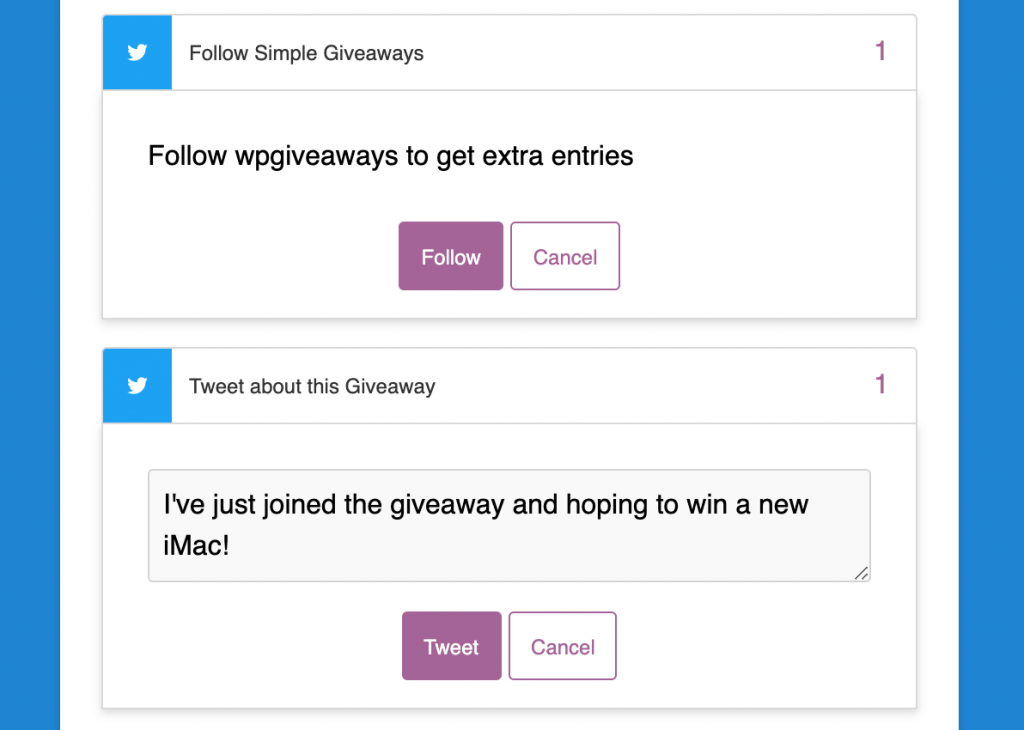 Also, be aware when running giveaways on multiple platforms (not just your site) to read all legalities that are required for it. We have an article about must-know Legal Contest Rules For Running an Online Giveaway.
3. Upload a photo from a gallery
Everybody just loves photo contests, mainly because they get your entrants really invested – contestants are much more interested when they've created something themselves, or at least when they have an option to do it in a simple way – for additional points in a contest.
On top of that, photo contests can help you collect user-generated content that can be used in your future marketing efforts.
If you're working with tangible goods, such as a mug or a notebook, you could host a giveaway where the winner will have their logo/image printed on that tangible good. For example, having their logo printed on a mug and shipped.
4. Enter a secret winning code
Secret codes actions will allow your participants to feel exclusive. Depending on how you distribute your secret codes could mean that only a handful of users receive this code which, with additional Giveaway entry, allows them to feel special.
There is a chance that you've encountered such giveaways or raffles which involve finding a winning code. For example, people bought Coca-Cola to read the secret codes on the inside of bottle labels or on the inside of the bottle cups. They would then enter the code on the Coca-Cola site to find out if they have won a prize.
This is also one of the best ways to reward loyal and committed users and also a great way to step up your Giveaway game!
Conclusion on Engaging Subscribers in Giveaways
With the help of all these powerful tips and tactics (We have hosted an example with some of them.) you should be feeling ready to go out and start running your own successful giveaways.
Keep these advices in mind and you'll have no issues reaching a sizeable audience, driving the actions that matter to you and meeting all of your marketing goals.